Events in Cefalu
Hits: 2840
Cavea's friends festival
San Calogero area's on the Rocca of Cefalu, becomes for a week the natural stage of an event that brings together art, music and culture. From June 22 to 27 it will host the "Cavea's friends festival", it will be a poster of concerts, shows, dance recital and a convention on the historical, natural and architectural area of the famous Rocca.
The com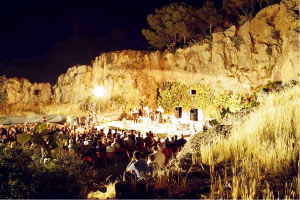 plex consists of the church of San Calogero, a natural amphitheater, a water mill, from a few hectar of green trees and the ancient kilns.
After the opening ceremony dedicated to the dialect poetry, the festival will offer multicultural events organized by some associations that will end on June 27 with a tribute to Pino Daniele. 
 Booking at Villa Gaia Hotel you will be at a few steps from the Rocca and from the natural theather, don't lose time >>> Book now!!!