Events in Cefalu
Hits: 5939
"VentoDamare" Kite Festival in Cefalu 2015
Kite Festival 2015 - Cefalù 07-13 September
Cefalu is organising the second edition of "VentoDamare – Kite's Festival" from the 7  to the 13 of September.
The sky over Cefalu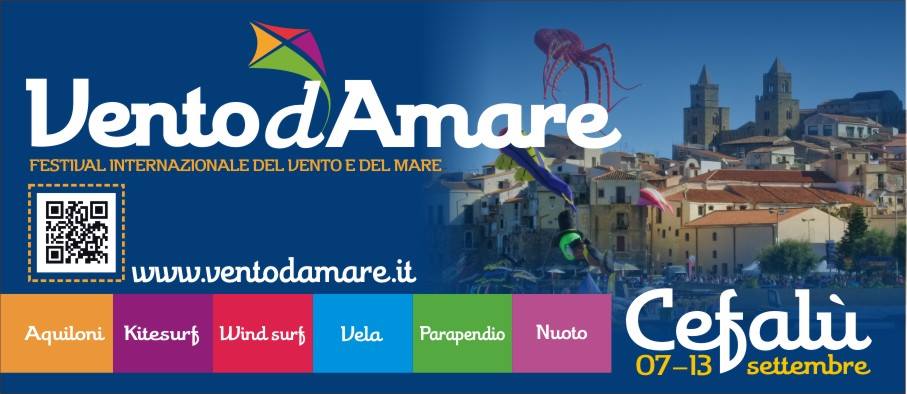 will be colorful by this multiform kites from around the world.
The promenade of Cefalu will be animated as usual by the pagodas of the Villaggio Del Vento that will host a craft fair and a gastronomic journey where you can taste: street food, crative dishes based on fish and products from local companies. Many activities planned for the week: Origami session, Street Sea food to taste the local specialties, shiatsu massages, night concerts on the beach, throwing in paragliding, surfing and kayak competitions, swimming competitions, tours to discover the area, by walk, by bus and electric boat, kite building workshops for children, and night flights with kites.
fter the success of 2014 and following the many requests and praise manifested throughout the winter, the event of 2015 will last 7 days, 2 more, and develop a broader and varied program, treating both craft the Sicilian food, emphasizing in particular the typical of Cefalu.
We strongly recommend not to miss this international event that has now found its highest expression in Cefalu.
>>> VentoDamare Kef'Art Festival Kite summer 2015 - Cefalu
For more info, visit >>> http://www.ventodamare.it/
We remind you that on the Villa Gaia Hotel will be within walking distance from the center of the party, do not waste time >>> Book Now !!!