Events in Cefalu
Hits: 6145
Kef'Art Festival in Cefalù 2015
Kef'Art Festival 2015 - Cefalù 04-06 Settembre
The eighth edition of Kef'Art's festival  Cefalu starts On Friday 4 September, there will be: exhibitions, concerts, cocktails, shows and more in the Norman town.
At 8 pm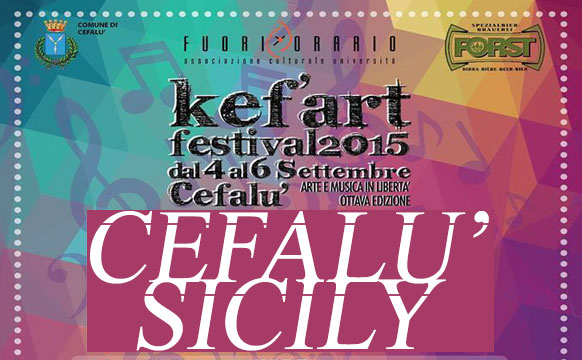 of the 4 September the section starts with a selection of FREE MUSIC BLACK, Reggae, Alternative Rock, and DJ sets of electronic-rock music.
Cinema and theater together for the third and final section of Kef'Art. Sunday, September 6, it moves to the "Corte delle Stelle", everything is setted for 9 pm with the outcome of the non-laboratory.  At the end, the screening of a documentary miniseries on Article 5 of Sicilian brut, a real journey to discover  secret art of the island.
Time to taste something during the three nights of the festival, the Lungomare Giardina will be set up by the Association Baz'art Sicilia an area dedicated to the tasting of typical Sicilian products, Slow Food and the handmade objects exhibition.
>>> Kef'Art Festival Summer 2015 - Cefalù
For more info, visit >>> http://www.palermotoday.it/eventi/ 
We remind you that on the Villa Gaia Hotel will be within walking distance from the center of the party, do not waste time >>> Book Now !!!